By Sue Pascoe
Editor
Back in February, someone said they heard that Norris Hardware was going out of business. I went to Leland Ford, the landlord, and asked him. He said that the lease was up in September, but that he didn't think anything would change.
About 10 days ago, I read a front-page headline in our town's other newspaper stating "So, Farewell, Norris Hardware." The story said that "the building is now up for lease through Westside Retail." I looked for quotes from either Ford and/or the tenant, but there were none.
As soon as someone posted the article on Nextdoor Palisades, the social media site went crazy with postings such as: "Just read on another thread that Norris Hardware is closing, because of rent inflation due to the Caruso Effect (someone said it's going from $5,000 to $50,000)."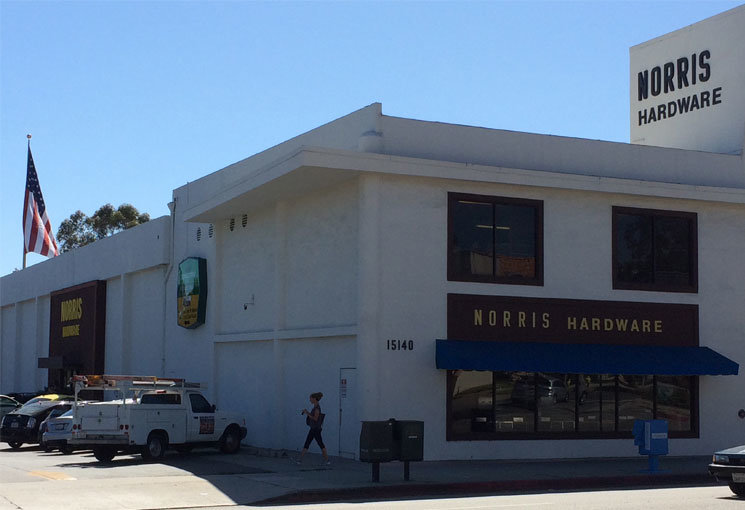 Another person wrote: "I heard it was closing because of a massive rent increase for them and also Ralphs and the Pali Car Wash. I talked to one of the head service employees there and they will not be looking for a new location. I hate to bring everyone the bad news, I can only wish it wasn't true."
And, "I just spoke with [employee] Allen Norris about 30 minutes ago; while he confirmed that nothing was final, it was so obvious they are closing. He had nothing encouraging to say, seemed very distraught over it, downright depressed is how I would describe him."
Another Norris employee on Nextdoor tried to be helpful. "I can say that nothing has been finalized, yet and yes, the lease is being renegotiated. The people reporting all of this 'news' have absolutely nothing to do with the business or the property. ZERO firsthand knowledge and conjecture unfortunately DOES sell newspapers."
Despite this senior employee's plea, someone wanted to start a letter-writing campaign against the landlord and his family, who live in the Palisades. So I again emailed both the landlord and the tenant. They responded on June 1 and told me nothing had been decided, yet, and negotiations were underway.
Why didn't people wait to hear the facts?
Likewise, when I first heard about the "evil" landlord who lived in the Highlands and how she was trying to evict children from her apartment buildings, I instantly sided with the tenants, but then I thought, "I should check with her first, before I write something."
I called Lisa Ehrlich and was surprised when she called me back instantly and answered all of the "hard" questions I asked. I've found that people who have something to hide, rarely return calls or emails.
Ehrlich told her side of the story. After explaining the issues involving her three buildings in Westlake, and why she felt she was justified raising rents (which are still below market value), she also gave me the telephone number for her maintenance people. It turns out that many of the one-bedroom apartments house many more than a family of four, and cleaning is often a problem, which can contribute to unsanitary conditions.
I wrote both sides of the story in a May 2 article. One of the community organizers who was assisting the campaign against Ehrlich offered to write a second story for the News and keep his "vitriol to a minimum!"
I responded, "Who has to pay upkeep on the buildings? Who is responsible for plumbing maintenance on old buildings?" I asked. I also wrote, "I believe in capitalism. The rent increases she is proposing seem reasonable. I grew up on an Indian Reservation, so I am fully aware of substandard housing and parents who have to work to make even a meager amount to pay rent—and worry if they have enough money to pay groceries."
I explained to the community activist that "I was a sociology major in college—so I understand the narrative that you're promoting, but I would ask you to take a more balanced approach."
Then I offered, "I'm happy to meet you so you can argueyourpoint."
He responded,"If I'm being totally honest, I think it's a little nuts you're asking me to take a more balanced approach when your last article read like a press release for Lisa. At least I'm very upfront about my intention to advocate for the tenants. You might wanna make clear your intention is to advocate for your fellow community member—or if that's not your intention, then don't just take her word for all your claims! For example, I know several tenants who have had their rent raised several times since 2008 (for most of them, going from around $850 in 2008 to $950 in 2013 to $1,050 in 2016 and then $1,350 with the most recent increase)."
And this brings us full circle to Norris or anything you read. Try to learn the facts. Go to the people involved, and don't rely on Nextdoor or what your neighbor thinks he heard at Gelson's—or any gossip for that matter.