The 2017 California wildfire season was called the most destructive in the state's history. Statewide, the 9,133 fires burned almost 1.4 million acres, according to the California Department of Forestry and Fire Protection.
Those fires included five of the 20 most destructive wildland-urban interface fires in state history that destroyed 8,470 structures and damaged 810. Forty-three people were killed.
The Ventura/Santa Barbara fire, which started last December 4 and was officially declared contained on January 12, led the L.A. Daily News to list plants that are better fire-resistant choices around homes that border on wilderness areas.
According to CalFire, "A fire-safe landscape isn't necessarily the same thing as a well-maintained yard," and noted some plants are more fire resistant.
The northern border of Pacific Palisades borders on thick brush parkland and fire officials warn that embers can travel up to a mile in front of a fire in windy conditions, so consideration to planting materials should be paramount to residents.
When choosing trees for a yard, steer away from pine, eucalyptus, juniper and melaleuca, which are deemed problem trees: they can be highly flammable because of peeling bark and the presence of volatile oils and resins.
Instead, experts recommend oak, western redbud, birch or pittosporum, all of which are fire-resistant.
Calvin Soueid, who works at Arboriculture in Australia, described how live trees can burn. "Most trees' center is comprised completely of dead wood, so once the fire gets through the outer trunk the inside of the tree is incredibly flammable."
Even though a tree may be wet, he noted, "with enough heat and fire nearby, the wood will dry out and catch alight just like anything else."
Soueid said the final factor is the species. "The bark is a major factor in whether or not a tree will easily catch alight. The Melaleuca quinquenervia is the Australian Paperbark tree. Its bark is a thick, dense paper-like bark, which means there is less oxygen within the bark and when it does catch alight it burns a lot quicker (think wood vs. paper)."
Other plants to avoid planting are pampas, jubata and crimson fountain grass, because these non-native grasses create a fire hazard with excessive build-up of dry leaves and flowering stalks. Instead of grasses, use agave or ice plants.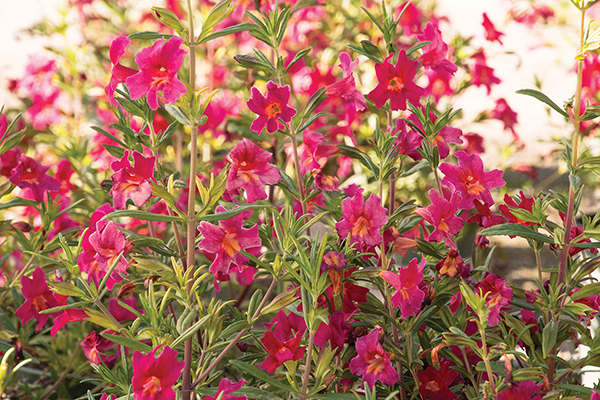 Cal Fire recommends choosing fire-resistant plants that are also drought-tolerant such as French lavender, red monkey flower, California fuchsia, sage, California lilac society garlic, ornamental strawberry, yellow ice plant, coreopsis and California redbud.
According to S.A.F.E. Landscapes, Southern California Guidebook: "Defensible Space can reduce the risk of structural damage in a wildfire. This space is the area surrounding a structure where plants are maintained in a way that decreases the fire hazard and provides an opportunity for firefighters to safely defend your home. Vegetation that does not ignite easily should be planted in the defensible space."
Yards are divided into different zones and depending on the zone, certain plants are recommended. Zone 1 (within 30 feet of the house) recommendations include a lawn, vegetable gardens, ice plant, agapanthus, oleander, daylily, pyracantha, star jasmine, periwinkle, redbud, morning glory and potato vine.
In Zone 2 (more than 30 feet from the house) the recommended low-fuel plants include yarrow, coreopsis, lantana, lavender, sage and yucca.
For more information, visit ucanr.edu/sites/safelandscapes/files/93415.pdf.