By Lady Beverly Cohn
What threatened to be a rainy, windy day turned out to be quite the opposite as the god of sunshine beamed his light down on the still damp, but beautiful Santa Monica Beach, once again home to Film Independent Spirit Awards. Now in its 33rd year, Film Independent is a nonprofit arts organization that encourages independent visual storytelling and supports a community of artists who embody diversity, innovation, and unique vision. Journalists from around the world gather to cover this annual celebration honoring the filmmakers who obtain financing outside of the studio system, and therefore are not constricted by studio demands. This allows them to make films that are true to their artistic vision and the Film Independent Spirit Awards honors their achievements.
With Nick Kroll and John Mulaney presiding over this entertaining non-black tie ceremony, celebrity guests and honorees showed up for the pre-show lunch in the familiar Big Tent more dressed than the usual torn jeans with knees poking through. With no language restrictions, the co-hosts took full comic advantage in both delivering prepared jokes and off-the-cuff remarks, including comments on the epidemic of sexual misconduct with some mention of yes, Harvey Weinstein. The "anything goes" is at the heart of the Film Independent Spirit Awards and is what makes it unique, relaxed, and fun.
Among some of the presenters were, Fred Armisen, Chadwick Boseman, Alison Brie, Timothée Chalamet, Ava DuVernay, Joseph Gordon-Levitt, Danai Gurira, Jon Hamm, Ethan Hawke, Spike Lee, Ben Mendelsohn, Janelle Monáe, Kumail Nanjiani, Elizabeth Olsen, Robert Pattinson, Salma Hayek Pinault, Margot Robbie, Amanda Seyfried, Molly Shannon, Sarah Silverman, Michael Stuhlbarg, and Lena Waithe. Sunflower Bean was the house band.
This year's major winners were Get Out, which won Best Feature and Best Director; Call Me by Your Name, which won Best Male Lead and Best Cinematography; I, Tonya, which won Best Supporting Female and Best Editing; Three Billboards Outside Ebbing, Missouri, which won Best Female Lead and Best Supporting Male; Lady Bird, which won Best Screenplay; Ingrid Goes West, which won Best First Feature; The Big Sick, which won Best First Screenplay; Life and Nothing More, which won the John Cassavetes Award; Faces Places which won Best Documentary and A Fantastic Woman, which won Best International Film.
The coveted Robert Altman Award was given to Mudbound director Dee Rees who accepted on behalf of cast members Jonathan Banks, Mary J. Blige, Jason Clarke, Garrett Hedlund, Jason Mitchell, Rob Morgan, and Carey Mulligan and casting directors Billy Hopkins and Ashley Ingram.
While the show aired live simultaneously on IFC and on Facebook Watch at 2:00 pm PT/5:00 ET, with cameras in hand, fans lined up behind viewing barriers set up along the path leading to the tents to get a glimpse of some of their favorite movie stars, some of whom greeted the fans, signed autographs, and posed for pictures.
So once again, thousands of dishes were cleared away and the tents were folded up until next year when Film Independent Spirit Awards would once again return to the little city by the sea to bring its own special brand of celebrating the world of outstanding independent filmmakers. As far as the weather, it held up just about until the end of the day when the skies suddenly darkened, the temperature dipped, the wind began to blow, and tiny droplets sprinkled on the departing guests.
Following is a complete list of the winners:
Best Feature:
Get Out (Universal Pictures)
Producers: Jason Blum, Edward H. Hamm Jr., Sean McKittrick, Jordan Peele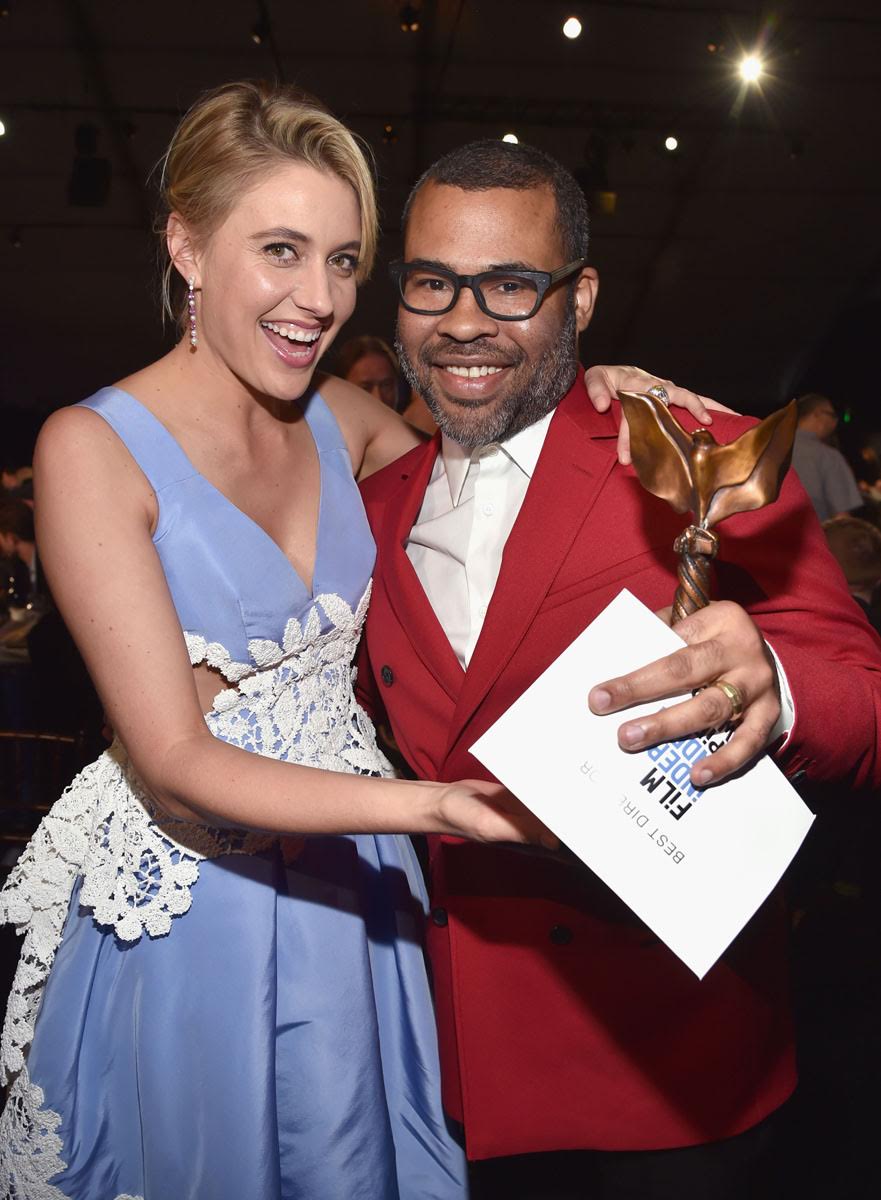 Best Director:
Jordan Peele, Get Out (Universal Pictures)
Best Director:
Jordan Peele, Get Out (Universal Pictures)
Best Screenplay:
Greta Gerwig, Lady Bird (A24)
Best First Feature:
Ingrid Goes West (NEON)
Director: Matt Spicer
Producers: Jared Ian Goldman, Adam Mirels, Robert Mirels, Aubrey Plaza,
Tim White, Trevor White
Best First Screenplay:
Emily V. Gordon, Kumail Nanjiani, The Big Sick (Amazon Studios)
John Cassavetes Award (For best feature made under $500,000):
Life and Nothing More (CFI Releasing)
Writer/Director: Antonio Méndez Esparza
Producers: Amadeo Hernández Bueno, Alvaro Portanet Hernández,
Pedro Hernández Santos
Bonnie Award
Chloé Zhao
Best Supporting Female:
Allison Janney, I, Tonya (NEON)
Best Supporting Male:
Sam Rockwell, Three Billboards Outside Ebbing, Missouri (Fox Searchlight)
Best Female Lead:
Frances McDormand, Three Billboards Outside Ebbing, Missouri
(Fox Searchlight)
Best Male Lead:
Timothée Chalamet, Call Me by Your Name (Sony Pictures Classics)
For more information, visit https://www.filmindependent.org/spirit-awards/.