Two choirs from USC's Thornton School of Music will perform at 8 p.m. on Friday, March 2 at St. Matthew's Church, 1031 Bienveneda Ave.
Under the direction of Christian Grases, the 51-member Concert Choir will showcase music from renaissance England, turn-of-the-century Paris and 20th-century America. The program will include works by American Norman Dello Joio on a text of Walt Whitman, Debussy's impressionistic "Beau Soir," music of 16th-century English composer Thomas Tomkins, "Ya Eres Mia" by Lauridsen and newer works by Daniel Elder and Paul John Rudoi.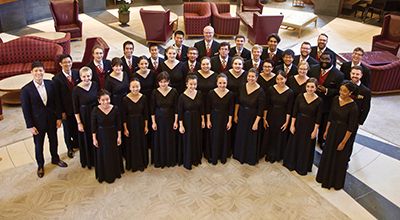 The Concert Choir has performed at Walt Disney Concert Hall, the Segerstrom Center for the Arts and at the 2015 National Conference of the National Collegiate Choral Organization in Portland.
The 25-member USC Chamber Singers, under the direction of Jo-Michael Scheibe, received the 2015 American Prize in Choral Music and have performed on many occasions for American Choral Directors Association conferences and conventions.
In 2014, the Chamber Singers were one of only 25 choirs invited to the World Symposium on Choral Music in Seoul, Korea.
Along with music by Polish, Latvian and Estonian composers, the Chamber Singers will present "Odysseus and the Sirens" by Z. Randall Stroope, "True Colors" by Los Angeles composer Matthew Brown, and "All of Us" from Considering Matthew Shepard by Craig Johnson.
Admission is $35 and discounted season passes are available. For more information, visit MusicGuildOnline.org or call 310-573-7422.