"This is a golf course I enjoy—one of my favorite courses that we play all year," said the world's No. 1-ranked golfer, Dustin Johnson, at a press conference on January 29 to promote the upcoming Genesis Open at the Riviera Country Club in Pacific Palisades.
Johnson will be the tournament's defending champion when play begins on Thursday, February 15.
"It was a great week for me [last year]," said Johnson, who won by five strokes and moved up to No. 1 in the world. He won two more tournaments and was the favorite going into the Masters, only to be sidelined by a freak fall at his rented home in Augusta.
Johnson, who is 6-4 and one of the longest drivers on the PGA Tour, was asked by tournament director Mike Antolini why the Riveria makes him feel so comfortable.
This is "such a good golf course and there's really not much trouble; it's just a golf course where you have to hit good shots," Johnson said.
"You've got to control your golf ball, you've got to hit it in the right spots. The first time I ever came here as a rookie on Tour, I just loved it and I felt like it was a place that really suited my game."
He was asked if he was worried about the younger golfers, such as Jordan Spieth (24), Rory McIlroy (28), Justin Thomas (24) and Jon Rahm (23).
"I still think I'm a young player," the 33- year-old said, smiling. "Yeah, Justin and Jordan, Jon Rahm are very, very talented players. They're younger than I am but not by too much . . . They're going to be good for a long time."
Johnson was happy to hear that Tiger Woods had committed to playing the tournament. "He's swinging completely different, he looked healthy. It was good to see him playing and hitting the ball well again, actually hitting it with some force and getting the ball out there. He looked like he did when he was playing really well. It's really good for the game of golf to have him out here. The more attention we get to the game of golf, and he obviously brings a lot of attention, it's good for everyone. I hope he plays well and I hope to see him coming down the stretch on Sunday."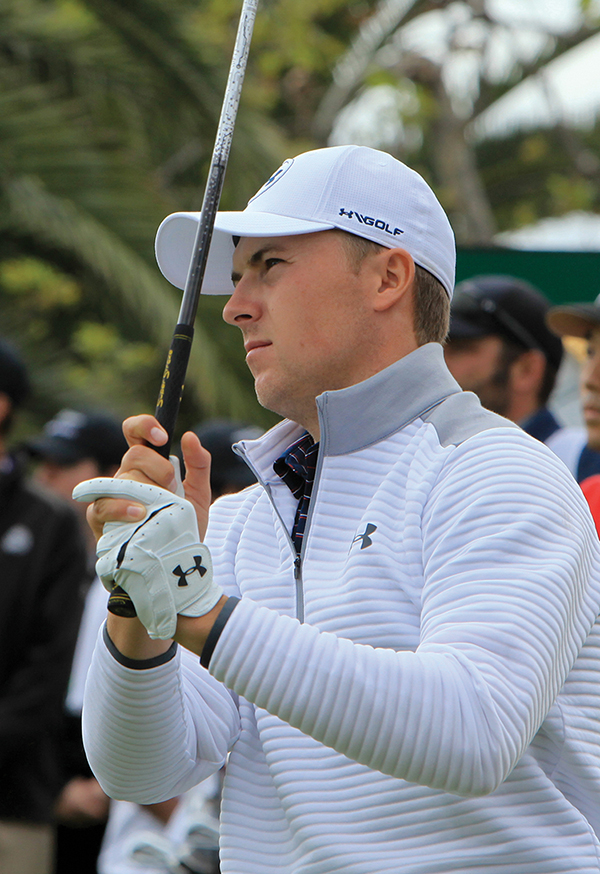 Antolini asked Johnson for advice on playing the course.
"Well, hit it straight and hit it on the green," Johnson said, laughing with his audience. "Riviera's definitely a golf course for controlling your golf ball . . . and hitting it on the greens. It's difficult to get up and down if you miss the greens, and you've got to keep your ball below the hole generally because the greens are usually pretty fast.
"Drive the ball straight, makes it easier."
Johnson then went to the first tee and surprised two tournament volunteers. Anyone volunteering to work the tournament prior to a certain date could play a round of golf at media day. Johnson teed off with the two men and then allowed one of them to play his long, perfect drive.