By Bob Vickrey
Special to the Palisades News
You've driven by it numerous times on Pico Boulevard, but like most Westsiders, you've probably never considered stopping for a meal at this old-fashioned diner.
Rae's restaurant has been around since the days when you could actually find a parking spot in Santa Monica. Rae's turns 60 this year and is still plugging along for those locals who don't mind a little grit and authenticity with their meals.
As our monthly lunch group entered the restaurant, we were convinced Rae's must have been where they shot the movie Time Stood Still. The modest menu prices also underscored the apparent time-warp that has occurred here since 1958.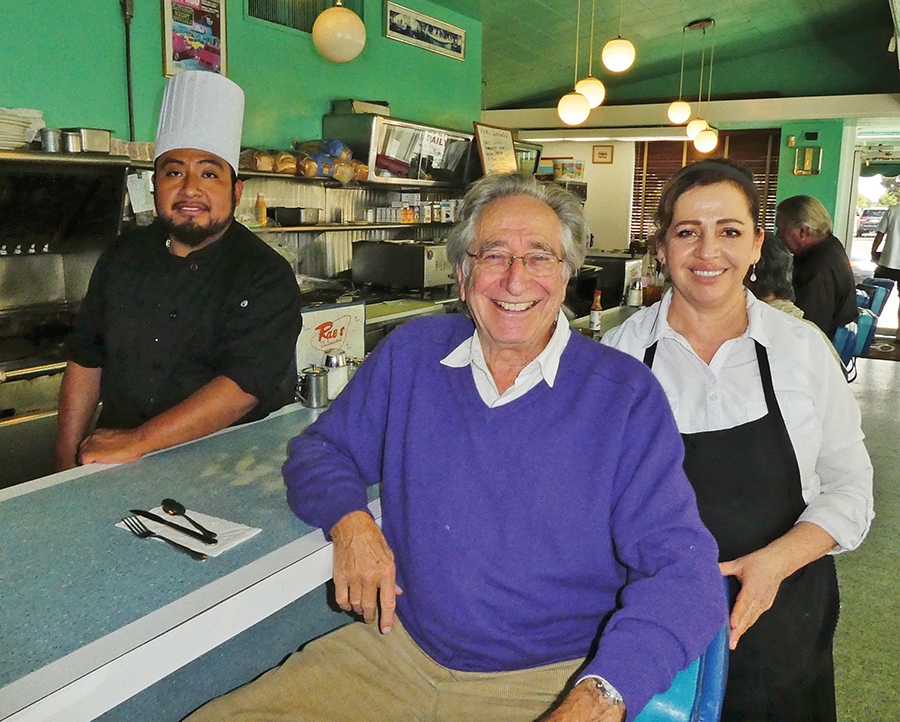 But after recent trips to the glitzy Waldorf-Astoria Hotel in Beverly Hills and Madeo's in West Hollywood, our group welcomed a meal that cost less than a down payment on our last automobile. However, Barry said he was leaning toward ordering five hamburgers in an effort to match the tabs we encountered at those upscale spots.
Our special guest this trip was I.C. "Chuck" Rapoport, a longtime Palisadian who has enjoyed two successful creative careers. He began working as a photojournalist for Paris Match, the French weekly picture magazine, and photographed notable world figures including Fidel Castro, shortly after the Cuban revolution.
He also took classic shots of Francois Truffaut, Marilyn Monroe and President John F. Kennedy. His photo of a grief-stricken Jackie Kennedy, taken after the president's assassination in 1963, appeared on the cover of Paris Match and became an iconic image of the First Lady.
Chuck also photographed fitness master Joseph Pilates for Time magazine, and many of these rare photos are displayed in studios throughout the world. His career at Life magazine was highlighted by his award- winning photo essay in the aftermath of the 1966 mining-related disaster in Aberfan, Wales, that killed 116 children and 28 adults.
After moving to Los Angeles in the early 1970s, Chuck began a long career as a television scriptwriter on movies and mini-series, including Cook and Peary: The Race to the Pole. He won the Edgar Allan Poe Mystery Writers Award, and was nominated for a Writers Guild Award for one of his Law and Order teleplays. He wrote Kapinsky's Still Dead and is now working on an autobio- graphical novel entitled Flight of the Doves.
I hadn't eaten at Rae's in many years and had forgotten how small the petite-sized booths were, especially for four "generously proportioned" men. I was worried that two of us might be required to stand next to the table while eating our lunch. (Elton John must have been considerably thinner in 2000, when he posed in a Rae's booth for the album cover of Songs from the West Coast.)
Our timing was perfect because the two customers who were hogging a much larger booth in the back room were just leaving to pay their bill. Perhaps it was the menacing stares we had given them that prompted their sudden exit.
Since Rae's is pretty much a steak and potatoes kind of place, Chuck ordered the hamburger steak with mashed potatoes and salad (iceberg lettuce—of course—with a bowl of blue-cheese dressing on the side). Arnie had the tuna melt with French fries and Barry chose the patty melt and fries, but as usual—no tomato. And he means NO tomato anywhere near his plate! The man has strong convictions about certain matters.
I had Rae's version of huevos rancheros with pinto beans on the side and smoking- hot corn tortillas. No one commented on their meals, but my huevos rancheros dish was terrific.
Arnie, who loves his desserts, ordered a slice of pumpkin pie, while the rest of us shared a piece of apple pie à la mode. Our group scarfed down the desserts quickly—and did offer comments on this portion of the meal.
On our way home, our day was made even brighter when we stopped by to visit Josh Greenfeld on his 90th birthday. We brought hamentashen from Victor Benês Bakery, which put a smile on his face.
You may remember that Josh was really the founding member of our group three years ago when he asked us to go to Langer's Delicatessen for a pastrami sandwich. This was a lunch of celebration after his prolonged stay in a local rehab center. We had such a great time at Langer's that he asked on the way out of the restaurant, "Where are we going next month?"
And 32 restaurants later, our monthly lunch club forges ahead with our sights set on our next quest.
Bob Vickrey, a longtime Palisadian, is a regular contributor to the News. He also writes for the Houston Chronicle and the Waco Tribune-Herald.