Bill Branch was born on September 24, 1924, in LaGrange, Kentucky, to Hurley "HB" Branch and Ruth Jewell. He died on December 31, just shy of welcoming 2018, but holding on to celebrate his 58th wedding anniversary with wife Nancy.
Bill joined the Navy in 1943. After two years in ordnance school, he worked as an aviation ordnance man on Guam, Saipan and Tinian, the home field of Enola Gay, the plane that carried the atomic bomb to Japan.
When the war ended, Bill married a childhood sweetheart and used the GI Bill to earn a bachelor's degree in electrical engineering from the University of Louisville. (The couple had three children, Lynn, Lise and Bill.)
Later, he earned a master's degree from New Mexico State, while working at the White Sands Proving Grounds. When his first marriage ended in 1951, Bill began working for Douglas Aircraft in Santa Monica, where he met his wife Nancy.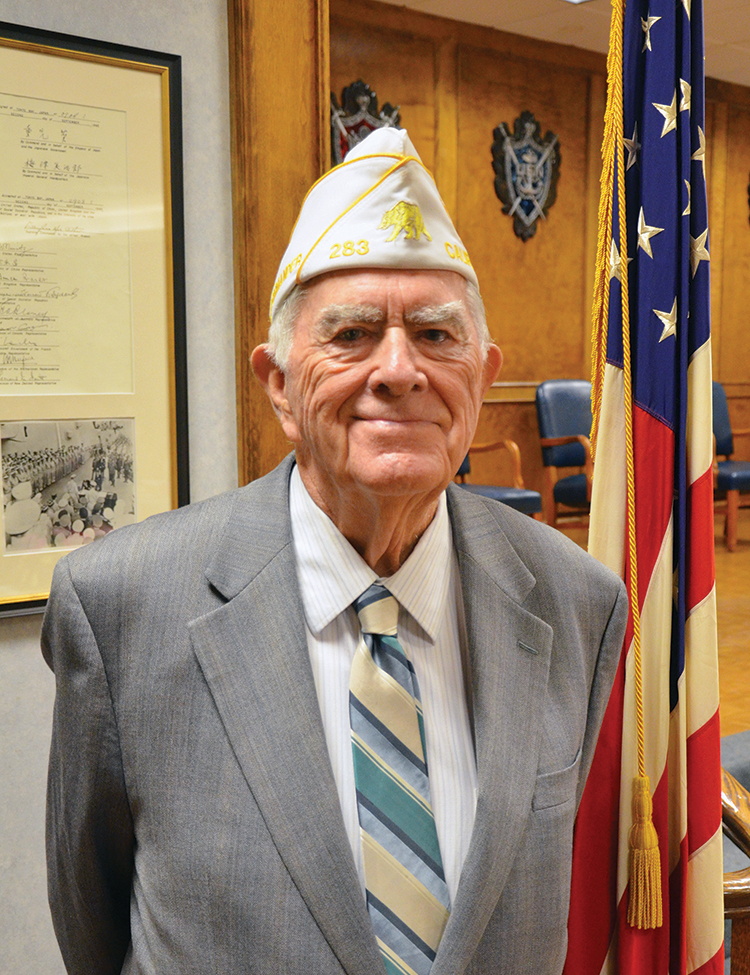 The couple married on New Year's Eve in 1959. In an earlier interview, Bill quipped "My wife claimed it was for tax purposes, I claim it was for sheer love."
While at Douglas, Branch helped combat the Soviet Union's ballistic-missile threat by working on the development of the Nike series of anti-aircraft and anti-missile missiles. He eventually became field station manager in New Mexico, overseeing more than 300 Douglas employees.
Bill and Nancy moved to Pacific Palisades in 1964 and had two daughters, Amy and AnneMarie, who graduated from Palisades High School.
Branch retired from Douglas in 1990, and served as treasurer and concessions manager of the Will Rogers State Park Cooperative Association and mediator for the Los Angeles City Attorney.
He also became an active member of American Legion Post 283, where he was Post 283 Commander (2004-2005), District 24 Commander (2007-2008) and commander of the L.A. County Council (Districts 17, 18, 19, 20, 23 and 24) in 2009.
In 2015, Branch was named Area 6 Vice Commander, which oversaw 63 Posts. He also installed an emergency ham radio station in the Legion 283 building for times of crisis.
In addition, Bill was an active member of the Riviera Masonic Lodge, and shepherded the Palisades Library's cornerstone ceremony. He also oversaw a cornerstone event for the renovated barn at Will Rogers State Historic Park. He was master of the local lodge in 1997-98, and was lodge secretary from 1999 until his passing.
A member of the Community United Methodist Church of Pacific Palisades, Bill had been financial secretary since 2008, and was a member of the church's board of trustees.
He told the News in an interview that the best thing about retirement was spending time with his 10 grandchildren. He and Nancy took them on trips that included England, Wales, Scotland and Ireland.
"As an old granddad, you'd like to do something with the grandkids that they remember you by," he said.
Bill also felt that retirement was a give-back period, not only to family, but also the community. "I think a person should think about that."
In addition to Nancy, his survivors include children Amy (husband Max Ellzey), AnneMarie (husband Brian Winic), Lynn, Lise and Bill (wife Lisa); and grandchildren Catherine, Charlton, William, Bradford, Joy, Faith, Grace, Breanne, Bailey and Benjamin.
A service will be held at 10 a.m. on January 12 at the Methodist Church on Via de la Paz. A reception will follow at the church. Interment will take place at a family grave site in Westlake Village.
In lieu of flowers, please donate to the American Legion, the Community United Methodist Church or Friends of Palisades News.