By Sue Pascoe and Bill Bruns
Important as it is, trash collection and sidewalk cleanup in the Pacific Palisades business district is not a sexy topic to write about, but the subject raised concerns at the latest Palisades Business Improvement District (BID) board meeting on May 2.
"The Chamber of Commerce is out of the trash business," said BID executive director Laurie Sale, "and it's now our job."
Back in 2002, when the business district along Sunset, Monument, Swarthmore, La Cruz, Antioch and Via de la Paz was plagued with overflowing trash bins, unwashed sidewalks and debris-filled gutters, jewelry store owner Saad Mazboudi decided to take action.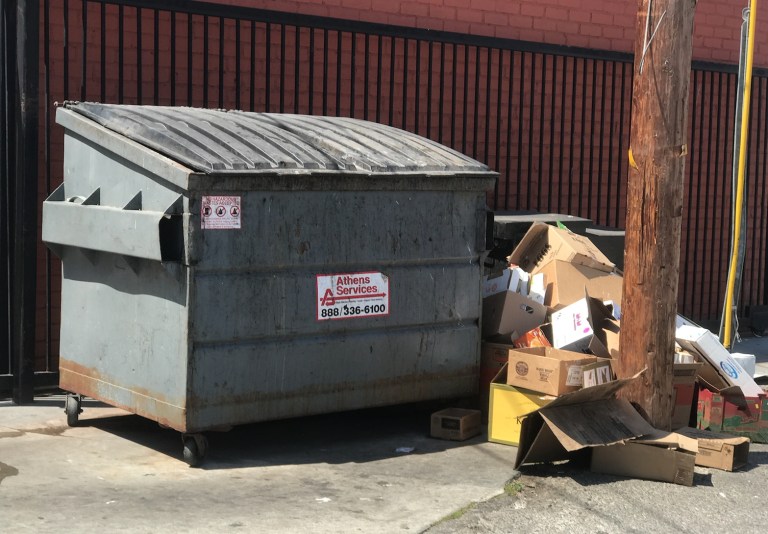 As president of the chamber, Mazboudi joined with Arnie Wishnick, the organization's executive director and a member of Palisades PRIDE, to bring about a fundraising campaign that would pay Chrysalis to collect the trash and clean sidewalk areas.
Every year through 2017, the chamber solicited donations through a community-wide mailer and managed to raise about $30,000 a year (helped by the annual $7,500 contribution from realtor Michael Edlen) to fund one or two workers for two days a week.
When the Palisades BID came into existence two years ago, every business in the town's main business district (from Carey Street to Via de la Paz) began paying a yearly assessed fee. Some of these funds were ear-marked to help expand the services provided by Chrysalis, while other funds went to sidewalk power washing twice a year and tree trimming.
BID was able to hire two additional Chrysalis workers, so that the total amount of cleaning in the Palisades business district now amounts to three people three times a week. This spring, the chamber board voted to transfer its Chrysalis money (nearly $30,000) to the BID. The Chrysalis contract includes the cost of labor, liability and workers comp, vehicle and gas expense, uniforms, supplies and trash liners.
At the May 2 meeting, BID member and chamber board member Rick Lemmo (who represents Caruso's Palisades Village project) reiterated that the chamber would no longer serve as the fundraiser and financial conduit for Chrysalis services.
"Why won't the chamber keep doing it?" asked David Peterson, who represents PRIDE on the BID board.
"Everything we do has to benefit the chamber," Lemmo said.
"Doesn't picking up trash benefit the businesses?" Peterson asked.
"If you go to other [community] neighborhoods, the chamber is not responsible for this," said Chamber representative Nicole Howard.
"The chamber is not a trash organization," Lemmo said.
"It should be the chamber's responsibility," Peterson said, but Howard noted that in a block of five businesses, only two might be actual chamber members (who pay a yearly fee to belong).
BID President Elliot Zorensky said that without the chamber's money, the BID will not have enough money late this year to continue the coverage that is currently provided by Chrysalis.
The total BID budget for the coming fiscal year is $180,000, which includes $108,000 for cleaning, maintenance and beautification efforts; $16,158 for communication/marketing; and $54,100 for management/city fees.
"We don't have $80,000 in our budget [to pay for Chrysalis a full year]," said Zorensky. Lemmo reassured BID members that all trash collection and sidewalk cleaning in and around the Caruso complex will be paid for by Caruso.