By Sue Pascoe
Editor
Photos by Lesly Hall Photography
Danielle Foley was handed the girls basketball head coach position the first day of school in August.
She replaced Torino Johnson, who resigned to become assistant coach at Cal State Los Angeles under Cheryl Miller. During his 10-year tenure at PaliHi, he had been voted L.A. City Coach of the Year three times and had been named State Division 1 Coach of the Year by Cal-Hi Sports.
Often in high school when a well-respected coach leaves, so do top players, who are recruited to private schools. Not only were seven of last year's varsity players seniors, but two of PaliHi's top players left to attend private schools.
Foley started the season with only one player who had varsity experience, sophomore Jane Nwaba, and a team of five freshmen, three sophomores and two juniors.
"I would have loved to have some of the returners, but I have almost a brand-new team," Foley said last week and, "all of our JV players are brand new to the school."
Foley understands why athletes leave, because when she played shooting guard in high school, "I had the same situation when a new coach came in after playing a few years," she said. "It's hard."
With starter Nwaba, the team was starting to pull together (they were 2-2 in league through January 19), but the talented athlete, who averaged 18 points per game, dislocated a finger after the win against Hamilton and may be out for the rest of the season.
"I don't think we have one player on the floor now that's ever played varsity before," Foley said noting that the Dolphins didn't try to rely on one player, but she had been able to count on Nwaba to play 32 minutes. "She did so many different things.
"They're learning to play without her," Foley said. "It's a good experience. We're trying to get better every game and improving on the court."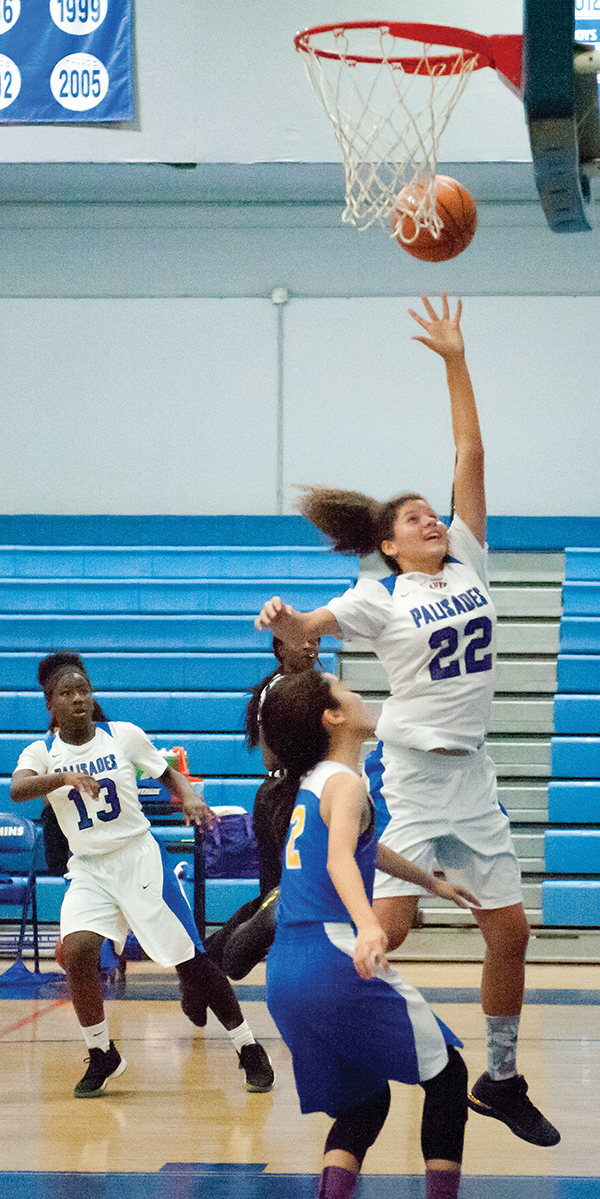 With an inexperienced team, Foley is also working with the girls on mental game. "We need to get better about how we respond to each other and respond to our frustrations," she said.
Foley who grew up in West Palm Beach, Florida, graduated from Azusa Pacific University in 2007 with a degree in Bible studies. She initially went to Sacramento for graduate school, but after a year moved back to Florida so she could coach at her old high school, Kings Academy.
She received a master's degree in secondary education online and then was offered a graduate assistant/coaching position at Dakota Wesleyan in Mitchell, South Dakota. All of the college's games were in the Corn Palace. "I enjoyed it," she said, "but I didn't like the cold." But, when she left she had another degree, a master's in administrative policy.
Foley came back to Azusa, where she coached for three years at the college, but "I decided I wanted to go back to high school." At one point, Foley had worked at Fitness by the Sea, the summer camp held at Lifeguard Tower 15, and a family offered her a nanny position. "The kids attended Palisades Elementary, so I started substituting at PaliHi," she said. When P.E. teacher Amanda Campbell went out on maternity leave last spring, the school asked Foley to fill in. "I enjoyed being here and I wanted to stay," said the Crenshaw resident.
When Mystic Thompson in the P.E. Department was promoted to dean last spring, this created an opening and Foley was hired full-time.
She had planned to look around to find a coaching position at another school, but when Johnson resigned, the school came to Foley first and asked if she would be interested.
Now as she works with a largely inexperienced team, it is about "trying to build the program and lay the foundation for next year," Foley said. "We have some great kids and if they stick together they will be really good."
The Dolphins play at Westchester tonight and are home against University on February 9 at 4:30 p.m. Fairfax is leading the league (9-0) and Westchester is second (7-2). PaliHi is currently fifth (2-5) ahead of University and LACES.