By Sue Pascoe
Editor
My greatest regret is that early on, the simple acts of giving money and donations to Margaret have now prolonged her situation and caused her decline over two decades," said a Pacific Palisades resident to the News.
Margaret, a well-known homeless woman who has lived on the streets of the Palisades for more than 20 years, recently told a man that her car (an aging Jaguar) had been damaged.
The man reported on Nextdoor Palisades, "Margaret, the homeless gal who lives at Gelson's, needs expensive work done on her car. A hit-and-run driver has damaged her Jaguar that she sleeps in. Gelson's has agreed to match dollar for dollar any donations you can offer. Please drop off at the manager's desk. Thank you for your thoughtfulness in looking after our own!"
Nice gesture it seemed, but the story had important elements that were not true.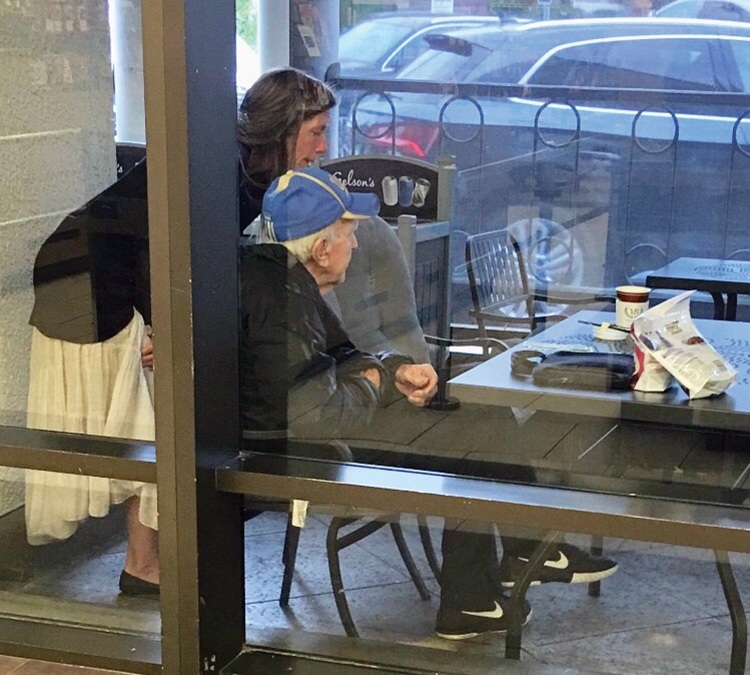 The News contacted Gelson's to see if they had offered to match donated money to help repair her car. The answer was no. Some employees at Gelson's, who spoke to the News off the record, said they didn't appreciate how Margaret would go into the upstairs restroom to wash her hair and body, tying up the restroom for employees.
When asked why the practice was allowed, employees said that Gelson's was worried that if the store tried to ban Margaret from using the bathroom, Palisades residents would be upset with the store, but clerks also wondered why this outside woman mattered more than those working there.
One employee told about watching how Margaret would hang out by the outside tables, then approach people as they got
out of the car, follow them into the store and ask them for money. Often it was the elderly she approached.
The News contacted Donna Tyndall, Senior VP of Operations for Gelson's, who responded in a February 23 email: "Many Gelson's stores have homeless customers who have been in their communities for years. While our customers are welcome to use our facilities, Gelson's does not knowingly allow them to bathe in our restrooms, and customers who see such activity may notify a manager.
"We do not condone individuals soliciting in front of our stores or in the parking lot," Tyndall continued. "While we have never provided direct financial aid to individuals, Gelson's does regularly donate to organizations assisting the homeless."
Tyndall was asked what a customer should do if approached by a panhandler. Report it to "the store director at the front desk," she said.
Another woman wrote about Margaret on Nextdoor:
"She used to come into Bay Pharmacy and ask to use our telephone. We allowed it until she 'outwore her welcome' by using it for long stretches on a daily basis. She then asked employees to use their cell phones. Eventually, we had to ask her to go as it was disruptive. This was probably 20 years ago. I know many Palisades business owners who help her [today]."
One long-time resident remembers that Margaret used to hang out in Village Books on Swarthmore. Back then, she was told that Margaret was down on her luck.
So, the resident had some expensive clothes that no longer fit and brought them for Margaret, who turned them down because they weren't the "right" brand.
The woman also heard that Margaret's car needed to be replaced and gave $500 along with several other donors. According to the resident, the car found "was not to her liking and she rejected it."
Others remember seeing Margaret sleeping in her car overnight on Swarthmore and then running into Mort's Deli as soon as it opened to use the bathroom.
There are also reports that people invited her to stay in their homes for brief periods, but that it always ended badly. One woman gave her a room next to the laundry and Margaret told her she would "not live in a maid's room."
Saheed Kohanoff, former owner of the Mobil station at Sunset and Swarthmore, told the News on February 26 that Margaret used to come in during "the very early hours and use the facility [station] for washing." He remembers that she slept in a BMW in the U.S. Bank parking lot. "She would buy a hot chocolate [from a machine]," he said. "She would drink it half way down and then fill it up, again," [without paying for the second cup.]
Heather Draper, a spokesperson for U.S. Bank, told the News in a February 21 email that the homeless woman in question is not a U.S. Bank customer.
"The branch manager has called to have her car towed several times, and it has been towed away before," Draper said. "We have posted no trespassing signs in the parking lot, and we have talked with the police about the situation."
The News has learned through sources that Margaret has received several cars as gifts from residents over the year. Another resident gave her a membership to Spectrum.
According to a reliable source, Margaret attended Smith College and worked in New York City in publishing. She has family in Southern California, but chooses to live in her car and occasionally in local residences.
In a posting on Nextdoor regarding Margaret, people were told to contact the Pacific Palisades Task Force on Homelessness.
Residents asked if Margaret, who appears to be in her 50s, could be linked to social services for shelter and psychological assistance. "Has anyone tried to take her to job training programs? It seems she needs help with larger issues than getting her car fixed. What can we do?"
One PPTFH member wrote the News, "People don't get it!! We have offered her services multiple times and she refuses.
"We have a community of enablers that are actually standing in our way of getting Margaret the help she really needs," the PPTFH member said. "We need to educate business owners and the community that helping Margaret is a bad thing and is not helping her at all."
The next PPTFH community meeting will be held at 7 p.m. on Monday, March 19 in the Palisades Library community room. The topic is enabling.